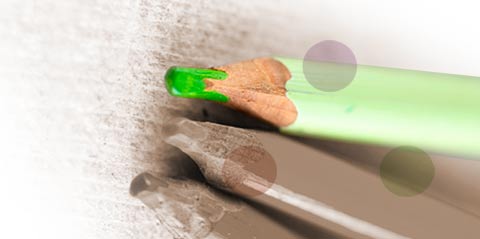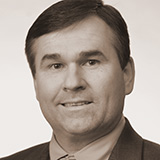 Albert Nylander
In the nation's poorest state, alleviating poverty is a complicated task and will require a collective effort. The University of Mississippi's McLean Institute for Public Service and Community Engagement aims to improve quality of life for all Mississippians by fighting poverty through education and serving as a cohesive force for building partnerships on and off the UM campus.
"The McLean Institute has an opportunity to expand our culture of scholarship and engagement and to form avenues for authentic partnerships with our communities," said Albert Nylander, the institute's director. "We partner with nonprofits and the private sector, and with schools and others throughout the state. We learn as much from them as we hope they learn from us."
Aligned with the UM 2020 plan and Chancellor Dan Jones' vision for university-wide service engagement, the institute recently revitalized its mission to serve as the university's coordinating unit for community engagement and service-learning. In this role, the institute will collaborate with faculty members, students and staff to support and promote community and leadership development, civic engagement efforts, service-learning courses, and community-based research activities.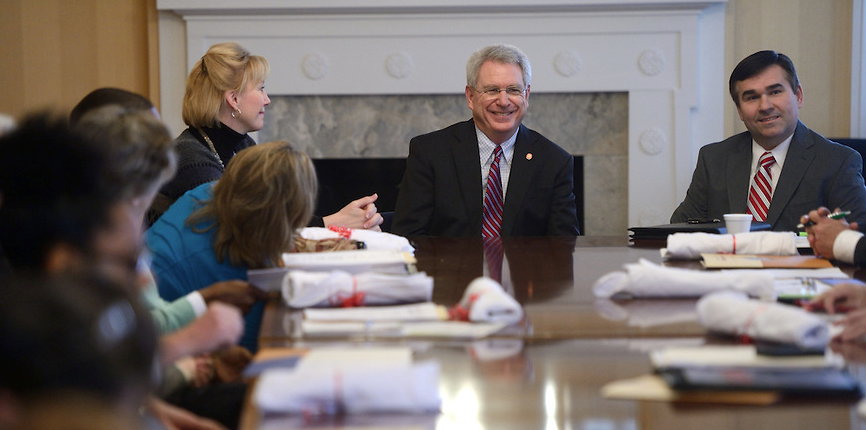 Chancellor Dan Jones and Albert Nylander speak at the Mississippi Commission for Volunteer Service meeting.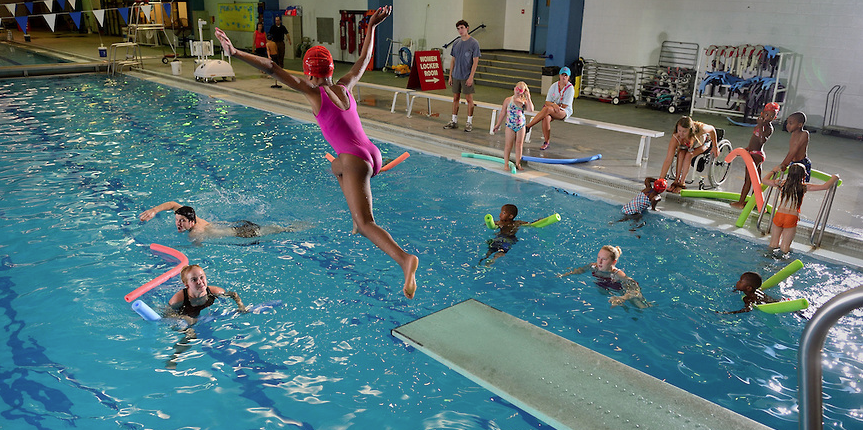 Horizons students swim at the University of Mississippi Turner Center.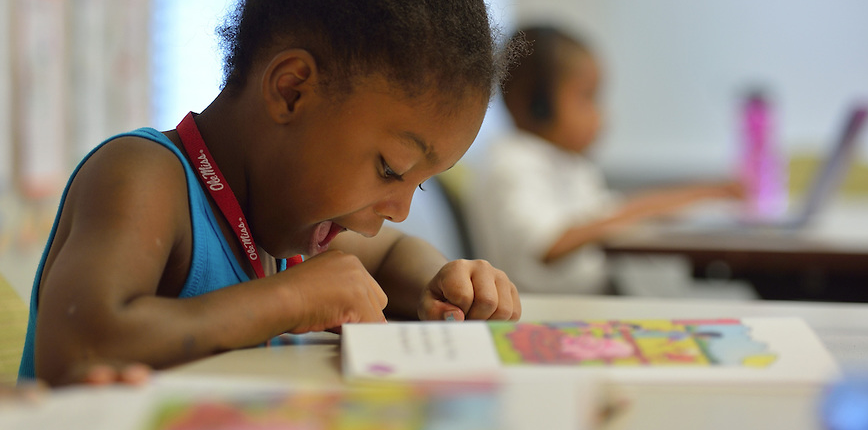 A Horizons student practices academic skills during the summer program.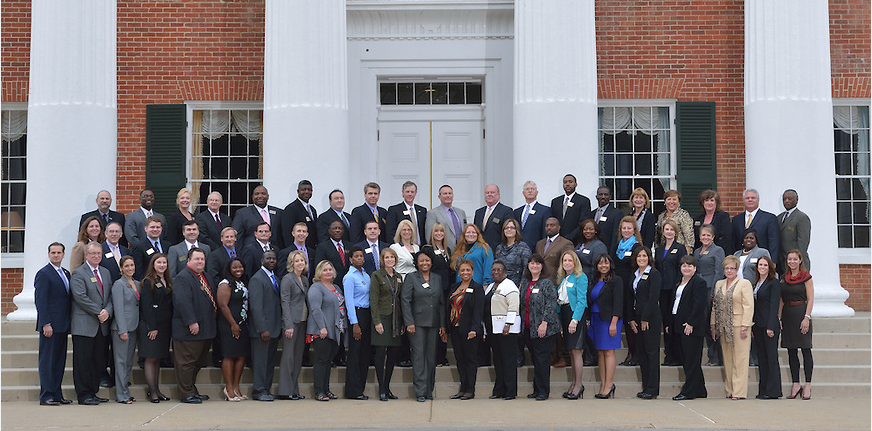 Members of Delta Leadership Institute's Executive Academy convene on the University of Mississippi campus.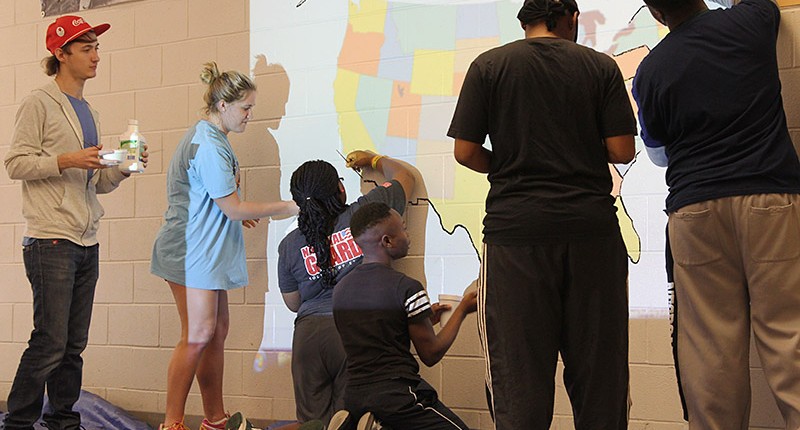 During an alternative spring break, student volunteers paint maps at West Tallahatchie High School.
"There are great opportunities for UM students and faculty to serve Mississippi communities, and I think the McLean Institute will play an important role in encouraging that engagement," said Ryan Parsons, program coordinator for the McLean Institute and a 2011 UM alumnus.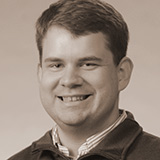 Ryan Parsons
The institute's recent efforts are focused on expanding access to education for Mississippi's low-income children. It has worked with partners in the College of Liberal Arts to bring the Horizons program, a national summer learning program for elementary and middle school students, to campus. Horizons is geared toward closing the summer achievement gap seen at higher rates among low-income students. The program will expand by one class each summer until it serves kindergarten through eighth grade, with a goal of retaining each student for all nine summers.
"We want the students to enjoy learning and look forward to coming back to Horizons summer after summer to increase the long term positive impacts," said Emma Tkachuck, McLean project manager and Horizons director.
"I don't always see poverty. I see potential. That's got to be our hope: that people don't just accept forces they could not have controlled—that they can break those barriers."
—Albert Nylander
To improve retention, Horizons is engaging parents and students year-round through family and student learning activities. Community involvement is also key to Horizons' success.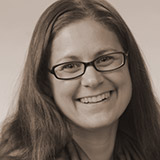 Emma Tkachuck
"Because Horizons combines academics with enrichment and recreation, we have a unique opportunity to engage with campus and community partners to provide a broad range of experiences to the students and positively impact the community as a whole," said Tkachuck.
The McLean Institute's approach to improving quality of life in the state is rooted in community engagement and extends to communities across the greater Delta region. Recently, the institute was awarded nearly $1 million from the Delta Regional Authority to direct the Delta Leadership Institute. The Delta Leadership Institute offers a year-long executive academy that builds leadership and advocacy skills among Delta residents to promote community and economic development throughout the region. The McLean Institute is the administrative lead partner in a collaboration that includes partners at Arkansas State University and the University of Louisiana at Monroe.
The 2013-2014 Delta Leadership Institute class consists of 51 leaders from the public, private and nonprofit sectors. During seven sessions held across the DRA service area and in Washington, DC, these leaders will take a regional approach to studying entrepreneurship, sustainability, broadband, transportation, public education, and access to health care, in addition to developing skills to build coalitions and communicate effectively with elected officials.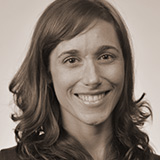 Laura Martin
"The Delta Leadership Institute is an opportunity for individuals who are already leaders in their communities to interact with others from across the region to identify parallel challenges they face around community and economic development," explained Laura Martin, project manager at the institute. "Our goal is to equip these leaders with the tools they need to create opportunity in their communities and across the region."
In addition to its off-campus activities, the institute supports the development of service-learning courses on campus through initiatives that provide financial support for new and existing courses. Service-learning courses integrate community service and classroom instruction to expand students' perspectives and help strengthen communities. The institute's service-learning awards go to exceptional new courses and to existing ones that have demonstrated evidence of community-identified need, merit, feasibility and university-community partnership. The institute has also hosted Brown Bag presentations to enrich dialogue around service and community engagement on campus.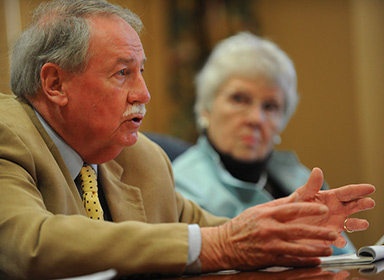 Vaughn (left) and Sandy (right) Grisham
"We want to be a resource on campus for faculty members who perhaps don't know a lot about service learning, or who don't have tools to support the development of a syllabus, worksheets for discussion or expectations for students when they go into the community as researchers or volunteers," Martin said. "We're looking forward to developing tools to support faculty."
Founded in 1984, the McLean Institute was named in honor of George McLean, a community development leader and the founder of the CREATE Foundation. At the end of his life, McLean approached UM sociology professor Vaughn Grisham (now Emeritus Professor of Sociology) with the request that they partner to establish an agency at the University of Mississippi that would be a resource for communities and regions seeking to raise quality of life. Following McLean's death, his widow, Anna Keirsey McLean, made the first donation to establish the McLean Institute. Grisham directed the institute for almost three decades.
The institute's recent expansion has received support from donors, including a $600,000 anonymous gift. Nylander, a Greenwood native, credits his experiences working for the McLean Institute in the 1990s with opening his eyes to the intellectual and academic aspects of social movements dedicated to community development.
"Working with Vaughn Grisham made me aware of addressing poverty structurally in the state," Nylander said. "So many people look at poverty in terms of personal indicators, but it's more complex than that. I don't always see poverty. I see potential. That's got to be our hope: that people don't just accept forces they could not have controlled—that they can break those barriers.
"As we bridge education and tap into the unbelievable potential of Mississippians, we can do a lot. It's going to take all of us coming together if we want to tackle poverty alleviation. Poverty didn't happen overnight, and we're not going to correct it overnight."