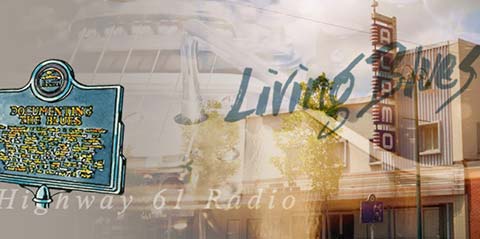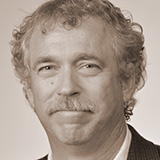 Ted Ownby
What makes a place or person worthy to be noticed, studied, even memorialized?
For music scholars at the University of Mississippi, there's more to it than the usual qualifications of wealth, power and prominence. Through enterprises like Living Blues magazine, the Highway 61 radio show and the Mississippi Blues Trail, they're delving deeply into the stories of humble men and women who turned struggle and sorrow into song.
"Each of these efforts has the goal of encouraging a broad understanding and appreciation of the blues," Ownby said. "That involves studying people who were relatively obscure in their time—and many who are still relatively obscure today."
The university's role in documenting African-American blues culture was acknowledged with the placement of a Mississippi Blues Trail marker outside Barnard Observatory.
"The impact of the Blues Trail is hard to quantify. But certainly, we're providing something else these communities can use in defining themselves, understanding themselves and selling themselves."
—Scott Barretta
It celebrates the university as the home since 1983 of Living Blues, the first American magazine dedicated solely to the genre. The university also houses one of the world's largest collections of blues recordings, publications and memorabilia within the Blues Archive at J.D. Williams Library.
The marker is one of 170 placed around the state since 2006 as part of a broad effort to acknowledge Mississippi's blues artists in a tangible, lasting way.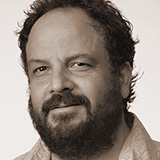 Scott Barretta
UM-based blues scholar Scott Barretta, a former Living Blues editor and host of the weekly Highway 61 program for Mississippi Public Broadcasting, has served as writer and researcher for the Blues Trail program alongside Jim O'Neal, a Living Blues founding editor.
"The Mississippi Blues Trail has aided a lot of people who are making a pilgrimage to visit this music which affected them in such a dramatic way as young men or women," Barretta said, adding that blues tourism has been a boon to some of Mississippi's most economically depressed areas.
"The impact of the Blues Trail is hard to quantify," he said. "But certainly, we're providing something else these communities can use in defining themselves, understanding themselves and selling themselves."
Aside from the tourism benefits, the process of identifying blues artists, choosing marker sites and working with communities to raise matching funds for each marker has been rewarding in itself.
"One of the really nice developments about the markers has been that communities have rallied in support of acknowledging people who, a lot of times, they didn't even know were from that community," Barretta said, crediting the state's promotion of cultural tourism through the Mississippi Development Authority.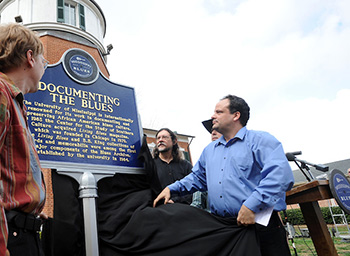 Scott Barretta unveils the Blues Marker
on the UM Oxford campus
"I think it's really significant, in terms of cultural politics," Barretta said. "People around the state are actively promoting the heritage of African-Americans in Mississippi, which is a relatively new development."
That heritage is being embraced and promoted by cities such as Clarksdale, which boasts more than a dozen Blues Trail markers in its vicinity. But even small towns such as Como, home to Hill Country bluesmen Otha Turner and Mississippi Fred McDowell, are finding ways to join in.
"Como has gotten involved with a number of activities at the city library and elsewhere," Barretta said. "This little town now has two Blues Trail markers 20 yards away from each other on the most prominent street in town. It's become really central to their identity."
Mark Camarigg
Also looking to promote its blues heritage is Mississippi's state capital of Jackson, home to a dozen Blues Trail markers. The city –particularly its historic Farish Street—is to be the focus of a special 2014 edition of Living Blues magazine, publication manager Mark Camarigg said.
"Ten years ago, we published a Mississippi issue with the goal of encouraging blues tourism in the state," said Camarigg, adding the UM-based magazine has a longstanding relationship with the Mississippi Development Authority.
"MDA always has a big tent at the Chicago Blues Festival where they promote the whole state, and we're always part of that package," Camarigg said. "They realize that the people at that festival are not only blues fans, but also people who are from the South and people who are thinking about visiting the South."
To aid those who make the pilgrimage to Mississippi, the Mississippi Blues Trail program offers a sophisticated website and related smartphone applications to help tourists plan their journeys and discover the state's music heritage.
More than a dozen short films have also been produced through the project.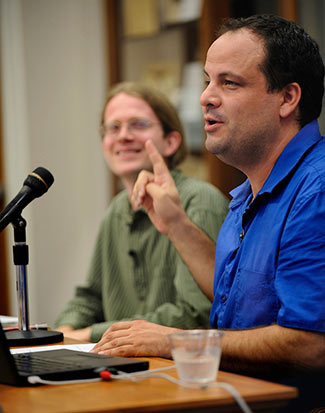 Greg Johnson (left) and Scott Barretta (right)
giving a Blues lecture
The effort has been supported by grants through the MDA Division of Tourism from three primary sources: the National Endowment for the Humanities, the National Endowment for the Arts and the Mississippi Department of Transportation. Individual communities have participated in the project by raising half the cost of their Blues Trail markers.
The number of markers is expected to reach around 200, including a handful located out-of-state and even one as far as Norway.
Soon, Mississippi schoolchildren will have the opportunity to tap into the stories of the Blues Trail through a new 18-lesson curriculum program designed for fourth-graders studying Mississippi history.
With NEA funding, the Mississippi Arts Commission enlisted Barretta along with a curriculum designer to put together the program. The Mississippi Blues Trail Curriculum is to be offered statewide in 2013-14.
Meanwhile, the work of collecting the stories of Mississippi's blues heritage is ongoing through Living Blues magazine and the Blues Archive. Interviews and oral history projects can lead to discoveries of original recordings and documents, which Camarigg and others work to ensure will be preserved after the artist's death.
"Our focus has really become about Mississippi music—which is much richer than just Elvis Presley and the blues," Camarigg said. "There's a lot more to discover here."