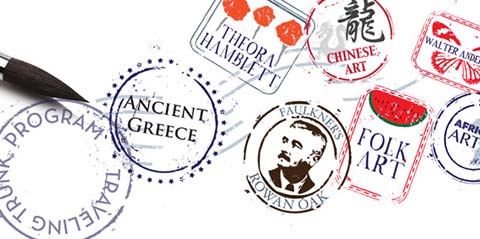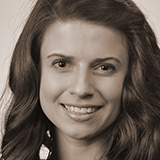 Emily Dean
Mississippi schools seeking to supplement their art programs don't have to look far thanks to a no-cost program at the University of Mississippi Museum that delivers inspiring lessons directly to classrooms.
The museum's Traveling Trunks program provides K-12 educators with everything they need to give their students a unique art lesson. The trunks are linked to the museum's permanent exhibitions, with a trunk each for Greek and Roman art, Walter Anderson, Theora Hamblett, Southern folk art, Chinese art, and African art. All the trunks blend the educational lessons of the exhibitions with hands-on art activities; the African art traveling trunk, for example, allows students to craft their own masks while learning about the rituals and social meanings associated with traditional African masks.
"For a lot of schools that don't have the means to come to the museum or don't have the ability to get a bus, [a Traveling Trunk] brings the field trip to them."
—Emily Dean
Each trunk contains the supplies needed to complete an art project and a binder with lesson plans developed within State Department of Education guidelines to meet curriculum standards. Schools may check out trunks and keep them for up to two weeks, using them in as many classrooms as desired, or the lessons can be taught by Ole Miss students interning at the University of Mississippi Museum, an option that not only assists schools but also allows Ole Miss students to gain valuable classroom experience.
Thanks to a Mississippi Arts Commission grant made possible by the Mississippi Legislature and the National Endowment for the Arts, the museum developed a new trunk this year based on the exhibition, "Grass Roots: African Origins of an American Art." Students learned basket weaving alongside historical and cultural information. Additionally, the Museum received a generous grant from the Mississippi Humanities Council to create a literature-based trunk for high school students based on the life and work of William Faulkner.
The rapidly growing program reached 9,000 students during the past year. The program travels anywhere within a one-hour radius to deliver trunks or teach.
"As school budgets are increasingly being cut and access to the arts is often limited, the trunk program provides new opportunities for students to experience object-based, cultural learning," said Emily Dean, Curator of Education. "For a lot of schools that don't have the means to come to the museum or don't have the ability to get a bus, it brings the field trip to them."
Beyond the Traveling Trunk program, the museum in recent years has delivered quality programming to learners of all ages on and off-site and has worked with various schools, Oxford's afterschool Leap Frog program and AmeriCorps Vista to expand its outreach programs substantially. Over 14,5000 participants were reached through the museum's education program last year, and continued growth and expansion is expected.