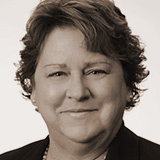 2014: Alice Clark
Vice Chancellor
for Research
In his introduction to My Mississippi, author Willie Morris wrote that he'd once heard William Faulkner say, "To understand the world, you have to understand a place like Mississippi."
The University of Mississippi is full of people who are striving to attain that understanding – and to applying what they learn to the greater goal of fostering positive change in Mississippi.
The 2014 issue of Change Agents highlights the exceptional work of more than seventy University of Mississippi researchers, faculty members, staff members, alumni, and students.
Whether they are working towards protecting our environment, supporting our communities and education systems, understanding our history, or addressing our state's unique health challenges, these Change Agents are all examples of the University of Mississippi's longstanding commitment to service and leadership.
This Site-Credits page honors those who established the online magazine format in 2014 under the leadership of Alice Clark, former Vice Chancellor for Research and Sponsored Programs.