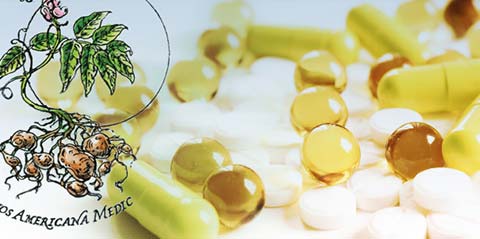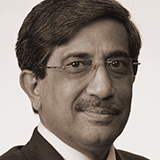 Ikhlas Khan
As long as there's been commerce, there's been product adulteration. From historic coffee traders who bulked up their product with chicory root to modern-day olive oil producers who substitute soy and canola oils, all merchants have faced the temptation to substitute less desirable ingredients for costly ones. But when it comes to botanical dietary supplements, purity is not only a consumer affair; it's also a public health concern.
For the United States, the task of helping the U.S. Food and Drug Administration sort the genuine from the bogus falls to the Center for Excellence in Botanicals, a cooperative effort between researchers at the University of Mississippi's National Center for Natural Product Research and the FDA.
Established in 2000, the center performs the laboratory research needed by the FDA to identify botanical dietary supplements that are adulterated and may be unsafe for human consumption. Directed by Ikhlas Khan, it is one of only four FDA centers of excellence.
"Quality and safety of botanical dietary supplements is our top concern," said Khan, NCNPR assistant director and research professor of pharmacognosy. "Our basic aim is to disseminate as much information as possible about the quality of these supplements and to increase general awareness."
"Quality and safety of botanical dietary supplements is our top concern."
—Ikhlas Khan
With new botanical dietary supplements introduced every year in an expanding global market, Khan and his colleagues face new challenges frequently. Because the products studied by the center are derived from the natural world, they are subject to a larger number of risk factors than laboratory-synthesized pharmaceutical compounds: their compositions may be affected by soil quality, by the presence of pesticides or mold, or even by the methods used to dry the product. The challenge of scientifically studying dietary supplements stretches far beyond America's borders, to countries with cultures more dedicated to plant-based medicines. NCNPR partners with research centers in China and India to help combat adulteration in products that may eventually end up in the medicine cabinets of U.S. consumers.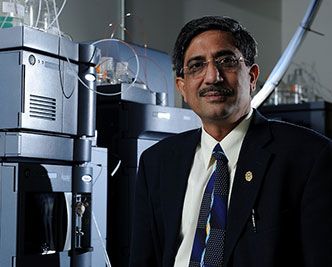 Ikhlas Khan
"Our science is helping make a transition from tradition-based knowledge to product science," Khan said. "We are really bridging the gap between these two and bringing science behind the ingredient so we can have a consistent product."
The center's work played a major role in the FDA's investigation into the supplement hoodia, which was aggressively marketed as an appetite suppressant. The center's scientists found that most products claiming to contain hoodia actually contained other substances. Consumers should be particularly wary of supplements claiming weight loss benefits, Khan said.
"If it sounds too good to be true, it often is," he said.
The center's origins stretch back as far as the Clinton administration and the 1994 Dietary Supplement Safety Act, a law requiring dietary supplement manufacturers to follow Good Manufacturing Practices. To help meet that requirement, the center trains industry employees and FDA inspectors who inspect industry facilities.
Besides addressing the quality concerns established by the FDA, the center hosts an annual international gathering of as many as 250 researchers to promote research collaboration. The event, the Oxford International Conference on the Science of Botanicals, is held each April.